In March of 2023 the headline of a cover story in the Wall Street Journal shrieked " Work from Home Era ends for millions of Americans"
The very same day another headline in Axios read " Remote work is starting to hit office rents"
On closer analysis, the Wall Street Journal article explains why their headline while true does not reflect the nuance in the data which indicates that while fewer people are working fully remote, and more employees are coming back to the office for a few days a week, in many white collar and information driven industries three years after the pandemic significant portions of work is no longer done in the office.
Which explains why in major cities such as New York and San Francisco which have many white collar and information technology workers and where commute is expensive office rents are declining by 15% (New York) to 30% (San Francisco)
For instance, the article noted:
"Remote work remained common last year in some jobs that traditionally were done in an office. In the information sector, which includes tech and media firms, 67.4% of establishments said their staff worked remotely some or all the time. In the professional and business sector, which includes law and accounting firms, the share was 49%."
And the share of establishments that were fully remote rose slightly last year, to 11.1% of establishments from 10.3% in 2021, the Labor Department said. In the information industry, that share increased 4.8 percentage points, to 42.2%.
In February 2023, 27.7% of total days worked were from home, after holding steady at an average of 30% each month in 2022, according to research by economists Jose Maria Barrero of Instituto Tecnológico Autónomo de México, Stanford's Nicholas Bloom, and Steven J. Davis of the University of Chicago. The share is down sharply from May 2020, when around 60% of days were remote but still more than five times the rate that prevailed before the pandemic.
And the article notes when it comes to fully remote work it "isn't likely to entirely disappear.
Some 13% of current job postings are for fully remote positions, according to staffing firm ManpowerGroup. That is down from 17% in March 2022 but well above the pre-pandemic level of 4%."
As Covid recedes of course retail and other workers will go back to work and so will many white collar and info tech workers for some of the time.
There is a great benefit to in person interaction for some of the time.
But world has changed in so many ways that there is no going back to 2019.
Here are just 6 of many changes: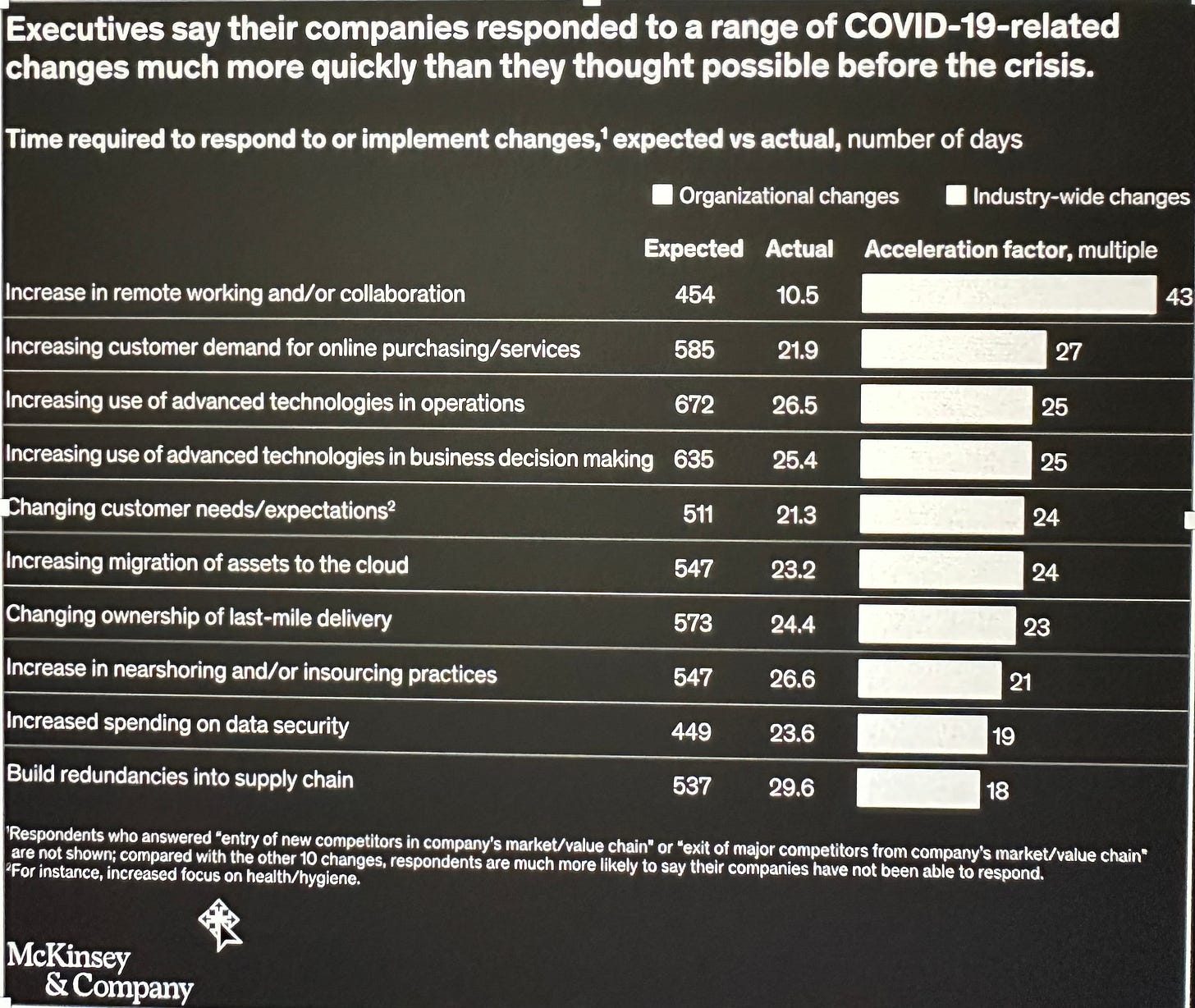 1. Significant investments in digitizing workplace means companies are now structured to service customers and support employees in different ways.
A Mckinsey study showed that within six months of offices closing companies had accelerated their digitization by several years. As a result, companies have been built to have their employees work from anywhere and support their customers in any way.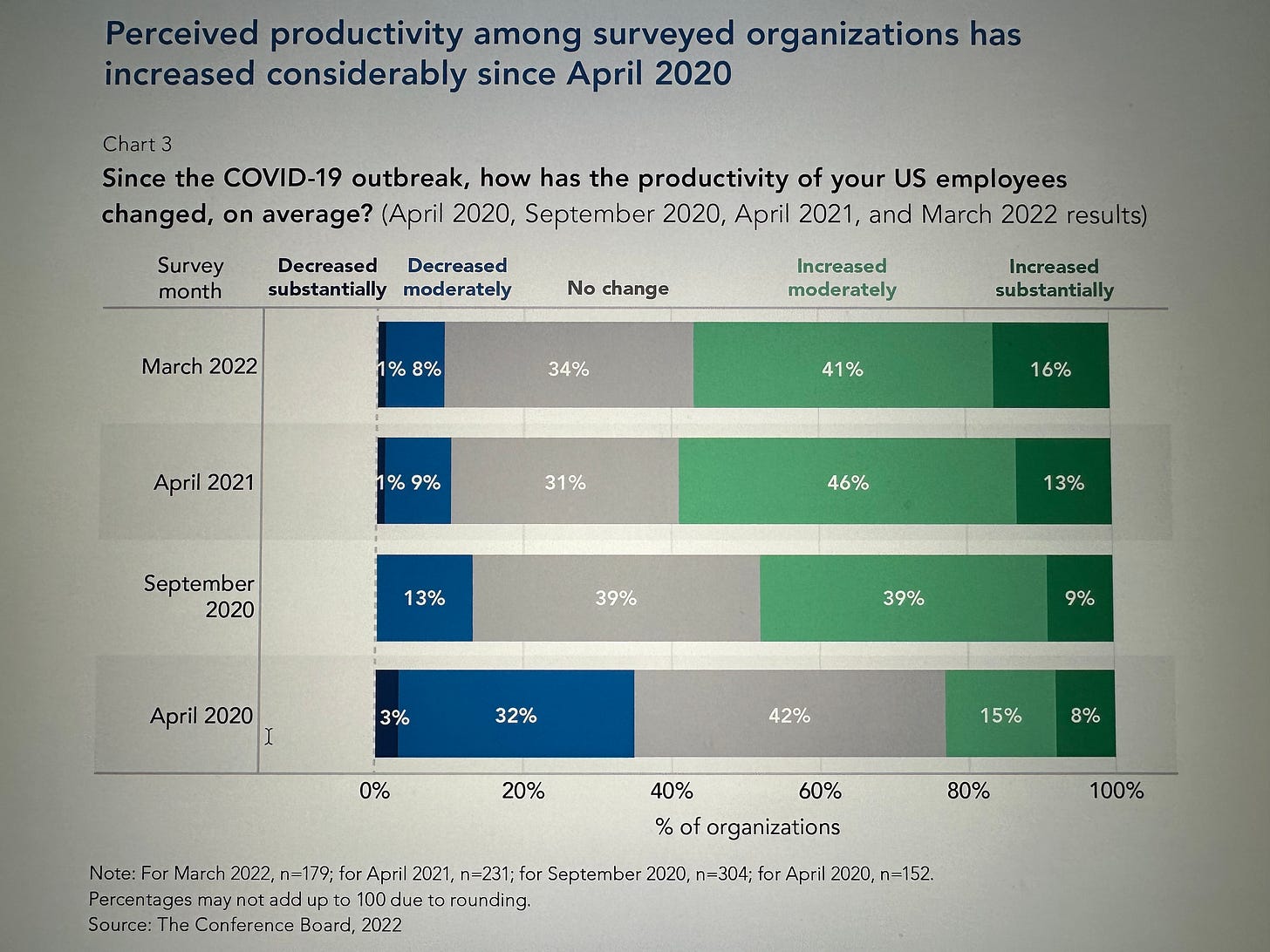 2. Improved productivity because of hybrid work.
The half of the workforce that have jobs which have allowed for remote work have reported that they are more productive in a hybrid versus a full time in the office environment. This is reflected in a three year tracking study from the Conference Board that indicates that as companies and individuals get their mind around the reality that the future of work for many industries is hybrid and they create processes and structure around this people are becoming more productive.
In addition recent study at the University of Birmingham, which surveyed 597 managers, has shed light on how managers' attitudes towards the hybrid work model have changed as a result of the pandemic. Surprisingly, the findings reveal an increasingly positive outlook on the benefits of remote and flexible working.
The study found that 52% of managers agreed that working from home improves concentration, 60% said it improves productivity, and 63% stated it increases motivation. This is a significant shift in attitude, as there has long been a perception that working from home can be a distraction, leading to a lack of productivity and motivation.
The study also revealed that more than seven in 10 (73%) managers felt that giving employees flexibility over their working hours increased productivity, while 60% said the same for working from home. This suggests that managers are starting to recognize that giving employees more control over when and where they work can lead to better performance.
The emerging reality is that in-person interaction is critical for many aspects of culture, people growth and quality control.
The debate is not between not coming into the office or coming into the office most of the week. Rather is is how to combine the benefits of in-person with those of distributed work.
And to ensure that in office is really about in person versus a form of control, absence of trust, input monitoring and the inability of a management class to learn to be leaders versus bosses.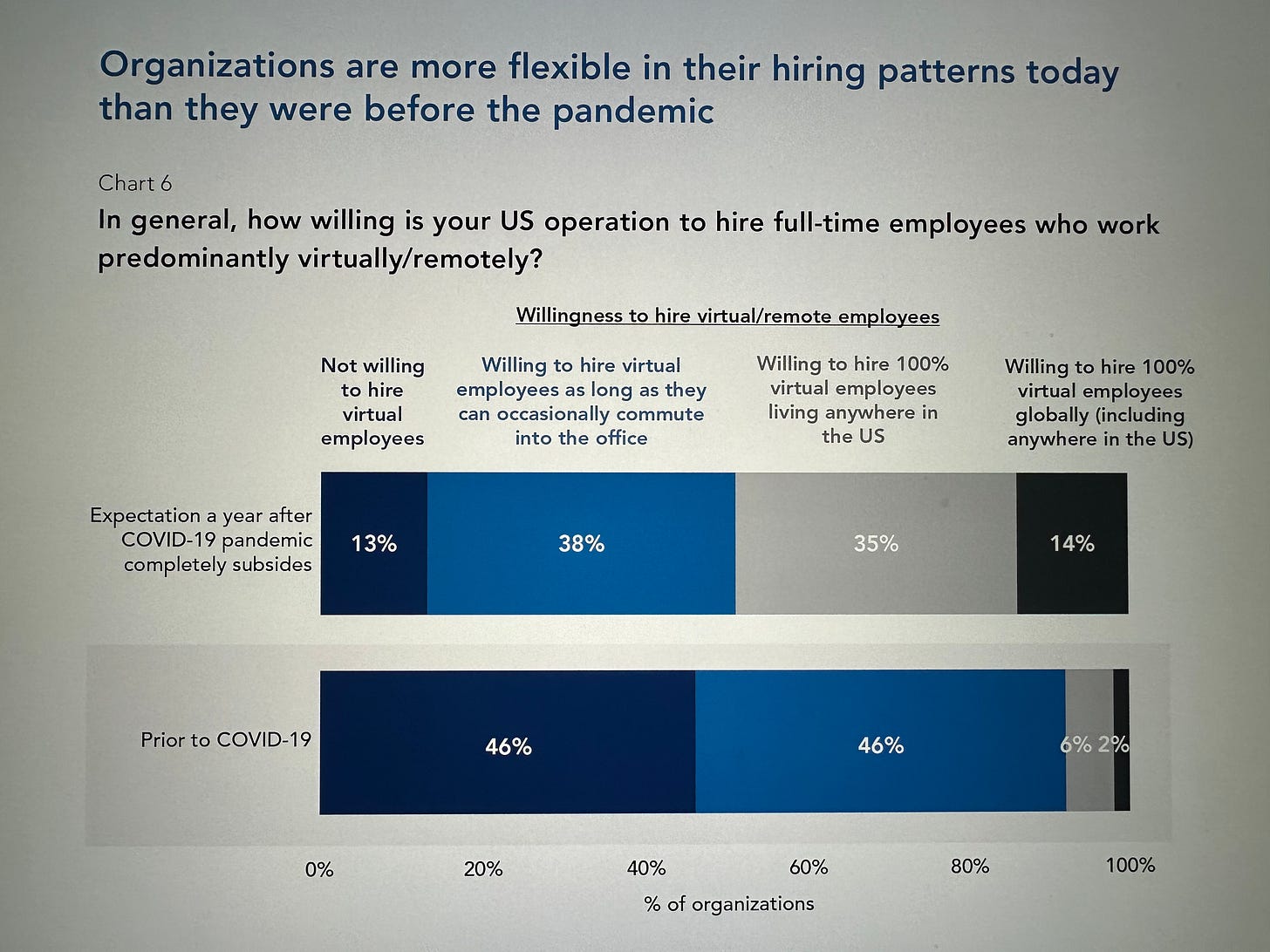 3. Companies have become much more flexible about hiring workers from anywhere according to the Conference Board which benefit both employee and company.
Before the pandemic, 46 percent of surveyed HC leaders indicated that their organizations were not willing to hire virtual employees, and 8 percent were willing in the US or globally. Now 49 percent are willing to hire 100 percent virtually, a sixfold increase.
The flexibility enables not only makes it easier to attract talent but also gain more diverse talent and reduce costs by recruiting from a much larger pool and cutting certain costs such as real estate.
4. People have a new mindset which no longer put up with toxic cultures or burn out.
The Great Resignation according to MIT Sloan is driven by people were leaving not for higher pay somewhere else but fleeing from a toxic culture and poor management
A toxic corporate culture is by far the strongest predictor of industry-adjusted attrition and is 10 times more important than compensation in predicting turnover.
MIT's analysis found that the leading elements contributing to toxic cultures include failure to promote diversity, equity, and inclusion; workers feeling disrespected; and unethical behavior.
The MIT analysis enforces a recent Harvard Business Review article, where 76% of the workers polled believe that employees will be more likely to prioritize lifestyle (family and personal interests) over proximity to work and will pursue jobs in locations where they can focus on both—even if it means taking a pay cut.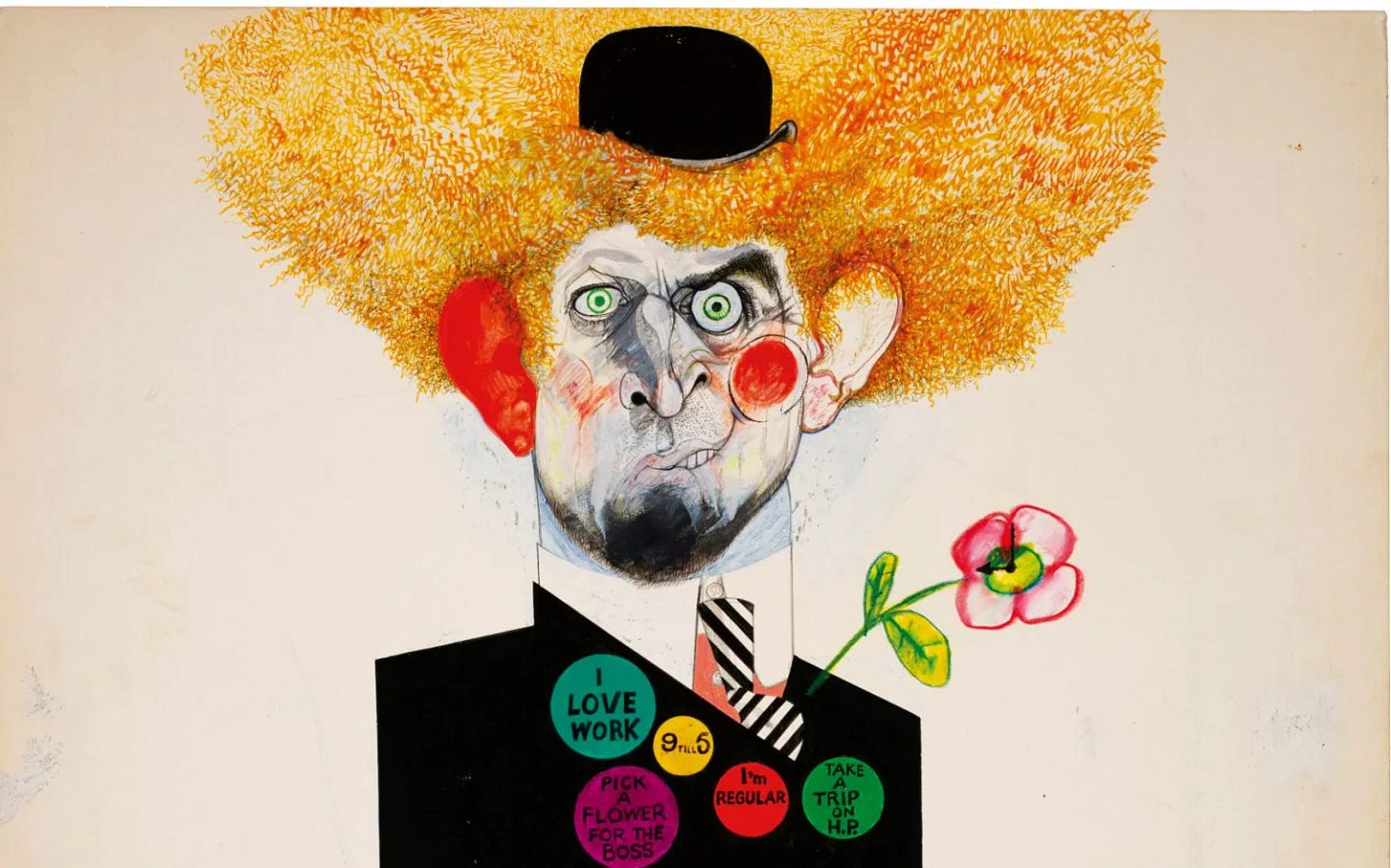 5 .New Approaches to Management and New Management Skills focused more on leading and looking after people versus managing and processing work.
There are significant challenges to managing in todays unbundled and distributed workplace.
I asked GPT-4 if management was necessary in a world of unbundled work and here is what it said:
"Covid-19 has not necessarily reduced the need for management, but it has changed the way management functions in various organizations. The pandemic has forced organizations to adapt quickly to new ways of working, such as remote work and virtual collaboration. This has led to shifts in management practices and priorities, including:
1. Emphasis on digital transformation: With remote work becoming the norm, organizations have had to invest in digital tools and platforms. Managers need to stay updated on the latest technologies and implement them to streamline work processes and communication.
2. Communication and engagement: Managers have had to adapt their communication styles to ensure clear and effective communication within remote teams. This has led to an increased emphasis on video calls, regular check-ins, and virtual team building activities.
3. Focus on employee well-being: The pandemic has highlighted the importance of mental and emotional well-being. Managers have been tasked with providing support and resources to help employees cope with stress, anxiety, and other challenges that come with remote work.
4. Adaptability and flexibility: Managers have had to be more agile and adaptable in navigating through the uncertainties brought about by the pandemic. This has included adapting work policies, redefining goals, and rethinking strategies to align with the changing business landscape.
5. Reskilling and upskilling: With the pandemic accelerating digital transformation, managers have had to ensure their teams are equipped with the necessary skills to adapt and remain competitive.
While the pandemic has not reduced the need for management, it has shifted priorities and required managers to develop new skills and approaches to effectively lead their teams in a rapidly changing environment."
If managers need to manage better they will always have a co-manager in AI!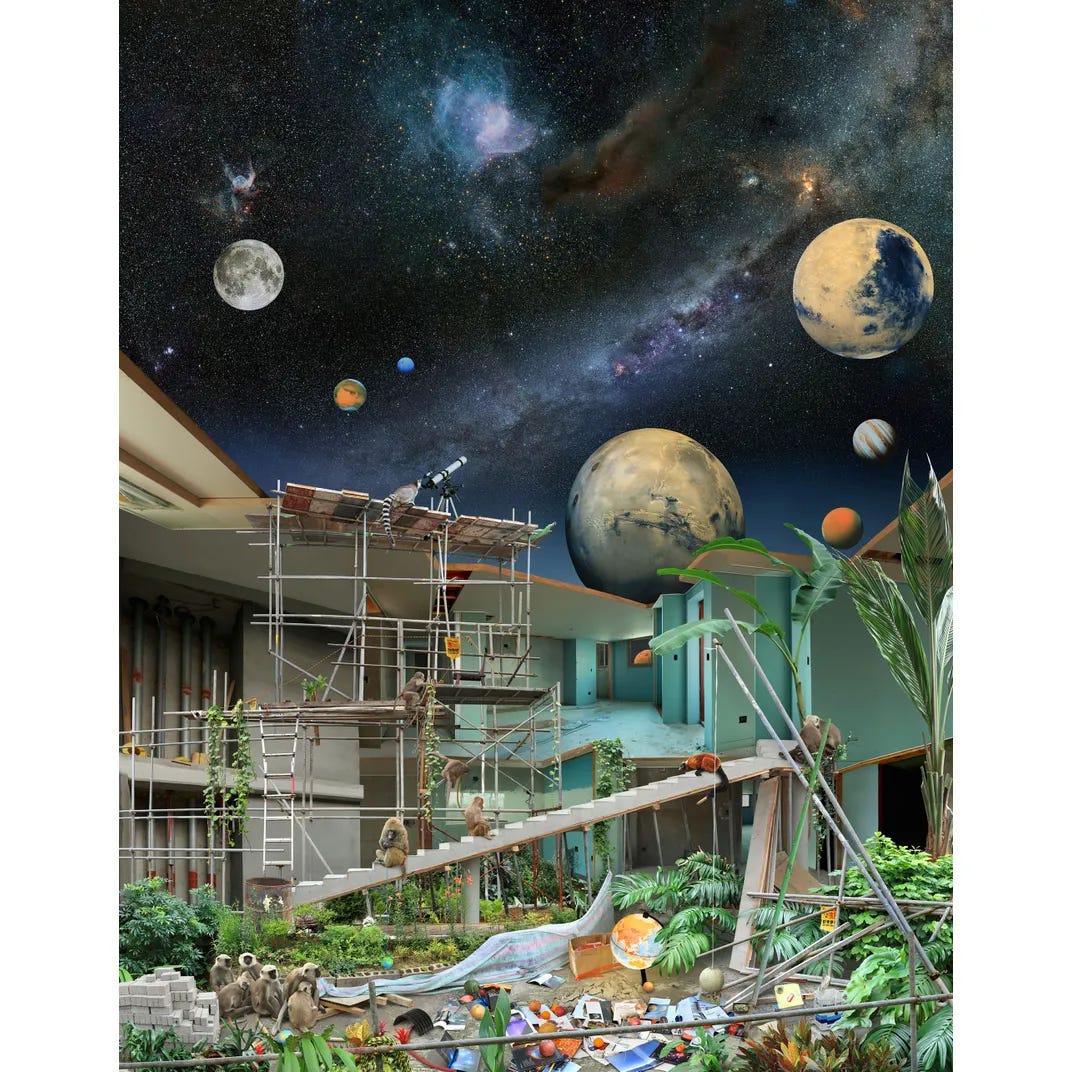 6. The Future for most white-collar companies will be a blend of in-person and unbundled distributed work combining high-tech and high-touch.
When people believe that things are going back to the way they were pre-pandemic in addition to the facts that indicate otherwise one must remember that people's minds are like champagne corks. They swell and they do not fit back into the bottle.
Three years of working differently combined with widespread availability of technology to work remotely across every company and industry means the future will not fit in the containers or the mindsets of the past.
Here are three reasons that even businesses who want to have employees spend 3 days or more in the office because they believe training, culture and quality require it they will not force things back to the way they were:
1) Larger pools of talent: Allowing for some or primary unbundled and distributed work allows companies to recruit from a far larger pool of talent. This is not just because they can hire from any market but also, they can recruit mothers looking after children, people not able to commute and people who want to work part time. In addition they can access their entire global workforce moving demand to where there have staff versus having to hire staff in one market while cutting staff in another. No company can compete by reducing its flexibility to access the best available talent pool.
2) Reduced costs: Remote work enables cost reduction not just because one can hire form a larger talent pool but there will be less travel costs, less real-estate costs and less severance if work can be moved between markets. In addition there will be fewer overhead costs because now more of the work force can be fractionalized, contracted or hired part time.
3) Future Ready: We have entered the Third Connected Age of Technology where AI, AR/VR, 5G and Blockchain all will turbo charge distributed work and change the profile of organizational design.
The future companies will re-aggregate talent recognizing the future of work will be around gigs which require different expertise coming together at different times. This talent will work alongside tech enabled machines and will need to continuously grow and hone its skills,
It is unlikely returning to 2019 way of working will suffice for this new world.
Listen below how one company with nearly 100,000 employees in 100+ countries is preparing for this new world of work!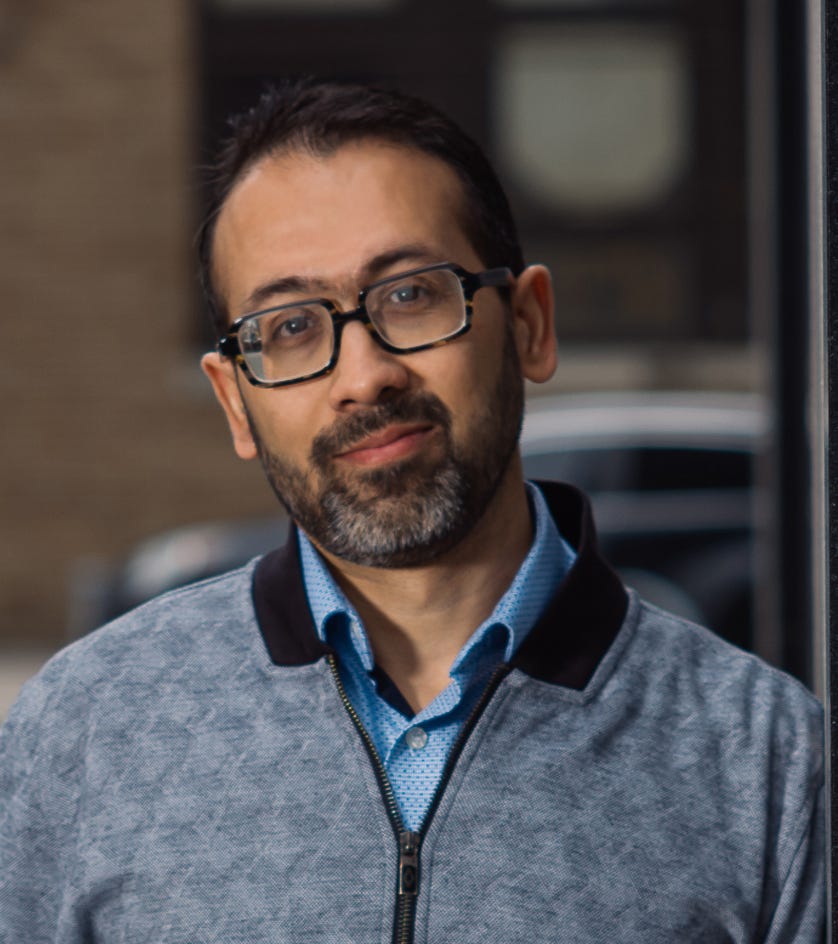 AI+ Talent=Growth: On the latest What Next? a peek into the new world of work! Arpit Jain, Global President of Marcel at Publicis Groupe, unpacks the truth of the AI
powered "people experience and growth platform" – Marcel, which was an AI hip before AI was hip.He explains how human intelligence can work in complementary ways with artificial intelligence to better collaborate for better business outcomes, to super charge talent mobility, and to achieve personal and career growth.
Rishad Tobaccowala is an author, speaker, educator and advisor who helps people see, think and feel differently about growth. Growth of their business, their teams and themselves. For more about Rishad Tobaccowala click here.