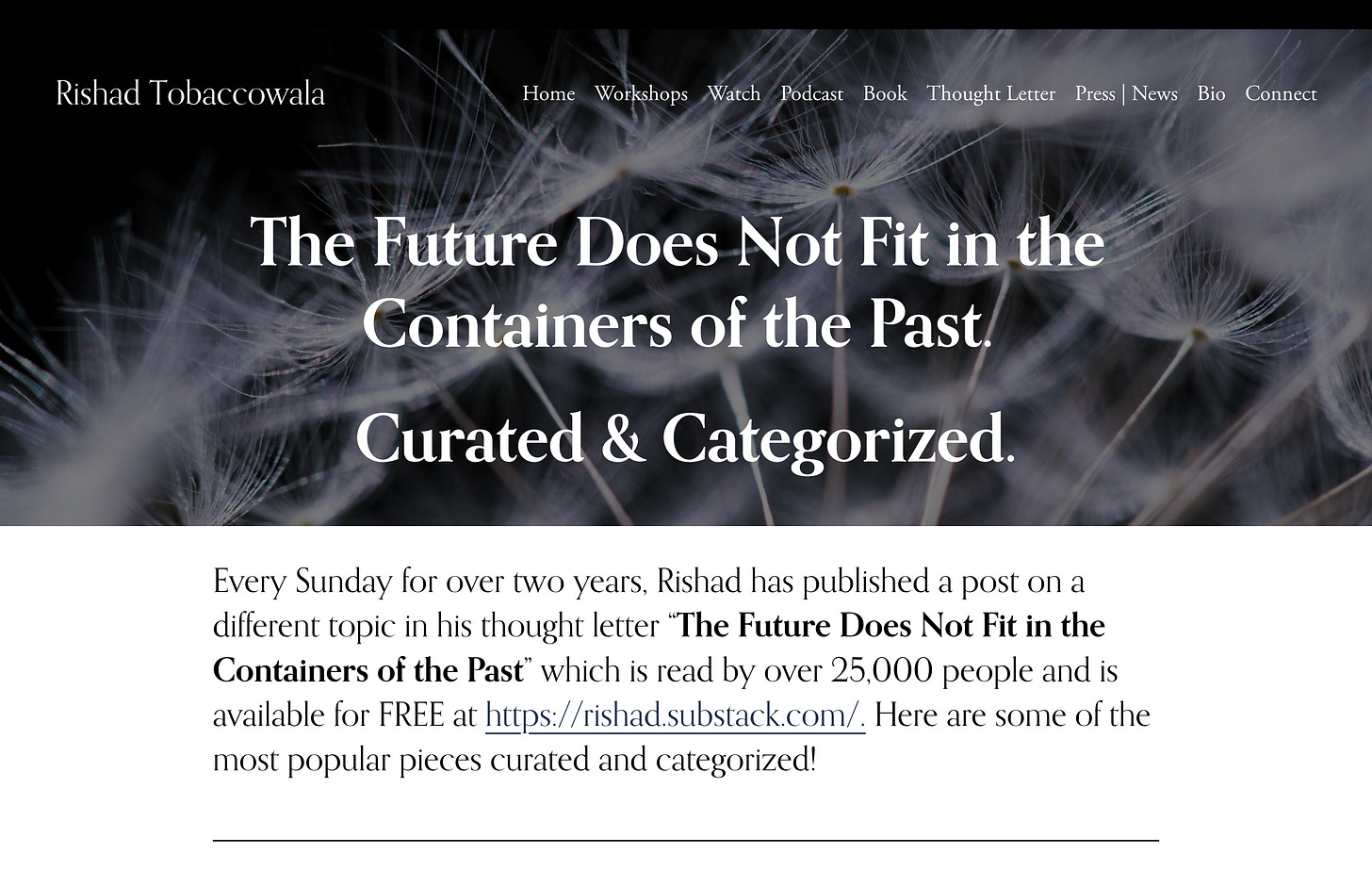 Two and half years ago on Sunday, August 16, 2020 I began the first edition of this thought letter as follows:
The idea behind this newsletter is that of a gift.
Like a gift it is free (no subscription fee, no up-charges to access special content, no advertising, no affiliate links, your email will not be shared or sold, and no algorithm is running in the background mining your behavior)
Like a gift I hope it will be of some value in helping you see, feel and think differently about how to grow yourself, your team and/or your company in the future.
Like a gift, I hope it will generate goodwill for the giver. Your attention and time which is so valuable. Good karma. Stronger relationships.
Since then I have written every Sunday for 131 weeks on a different subject.
Have been fortunate that tens of thousands of people subscribe or read my writing every Sunday (it is also reprinted and distributed by other publications all over the world) and increasingly there has been a request to find ways to access past writing when someone wants to share or use it for some reason. Almost all my pieces are evergreen since they are not aligned with the news or politics so you can read a piece from two years ago and it is likely to be relevant to the times and your needs.
So, I have curated the best 6 pieces of writing in the 12 areas that I write about on a single page that can be bookmarked, shared, and accessed by anyone anywhere on any device without charge or even entering an email.
This page will constantly be updated always containing the six best pieces in each area. A better piece will replace a current piece. So, it will not only be current but continue to be a distillation of the best.
Here is the page: https://rishadtobaccowala.com/100 and below is a look on what is available in each of the 12 areas and how best to leverage it.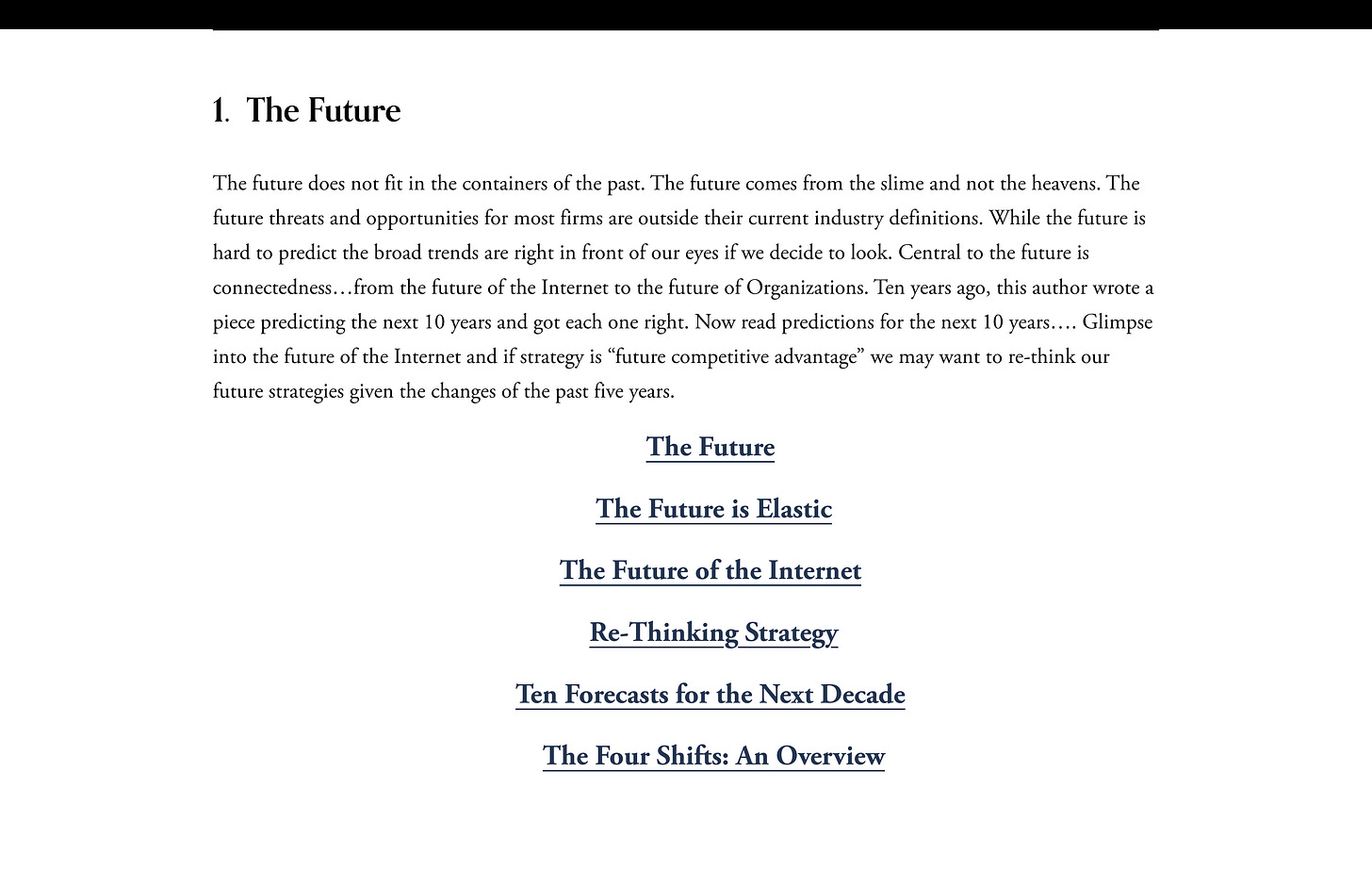 The Future.
We all should be concerned about the future since we are going to spend the rest of our lives there. This section contains a broad thesis on the future (The Future), the four shifts remaking the future (The Four Shifts) as well as ten specific forecasts for the next 10 years (Ten Forecasts for the Next Decade) and why every company needs to re-think its strategy (Re-Thinking Strategy) and how future organizations will be elastic in nature (The Future is Elastic)
Managing Change and Upgrading Ourselves.
The future does not adapt to us but we must adapt to the future.
This means we must change. But change sucks. However since irrelevance is worse, we must change. How do we manage change especially our own? (How do we slay our own inner dinosaur?)And what are the essential elements of making a company transform (Six Keys to Change)
One of the ways to transform and change is to upgrade our own mental operating systems. (Learning to Learn), ensuring that we do not get so high on our own fumes that we fail to adapt and defeat ourselves (Self-Defeat),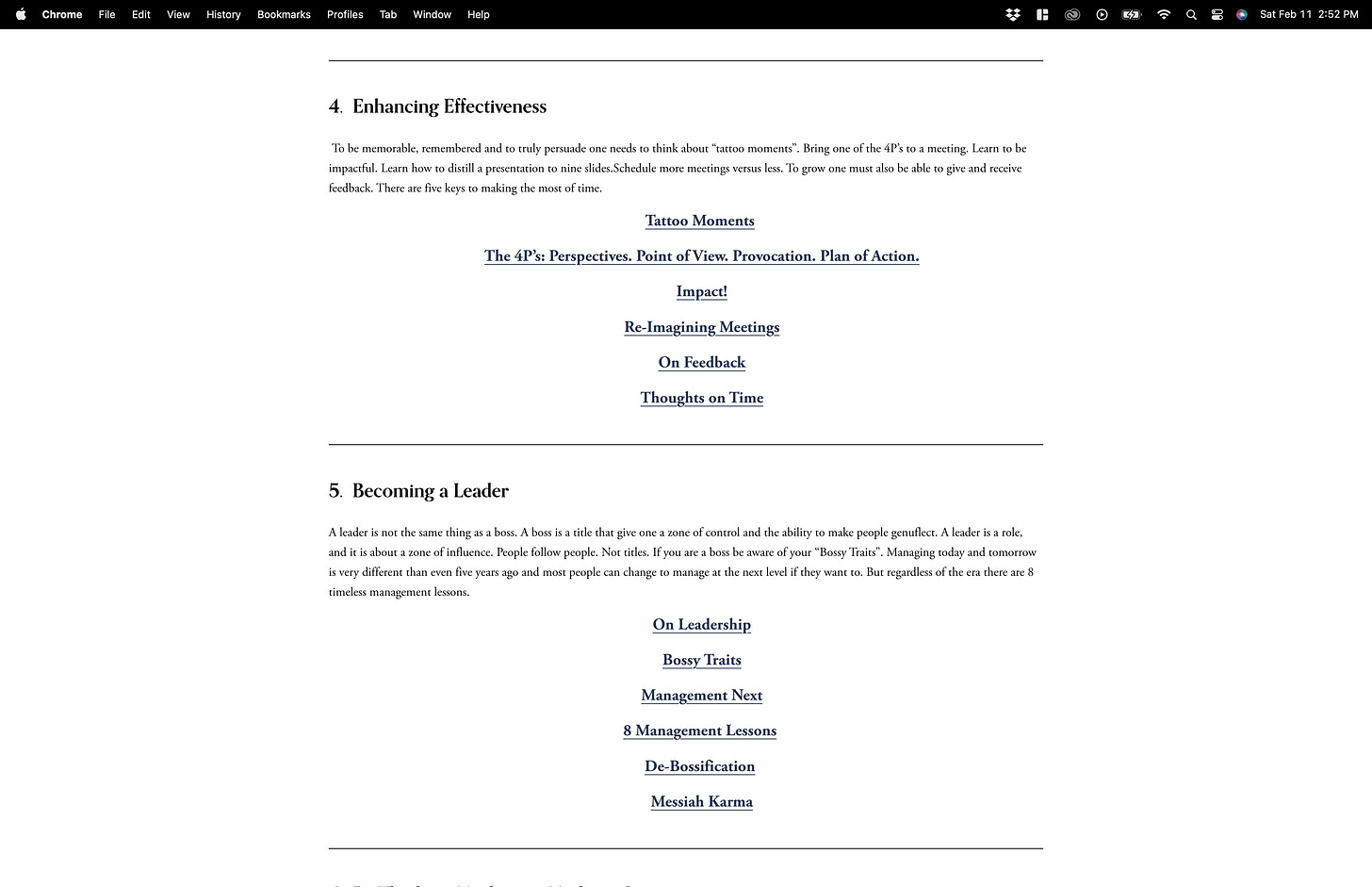 Enhancing Effectiveness and Becoming a Leader.
In an accelerated world of unbundled and distributed work and next generation technologies such as AI we will see a decline in the power of "bosses" (De-bossification) and a need to work not just in tandem with but add value to the increasing capability of machines. (The Four P's). How does one lead and be effective in such an era? (Management Next?) How do we re-imagine meetings and how do we give feedback in a world of DEI, ESG, Remote Work and concerns about our own relevance? (On Feedback) We will work with machines but influencing, inspiring, and building people will still be critical (Tattoo Moments, On Leadership)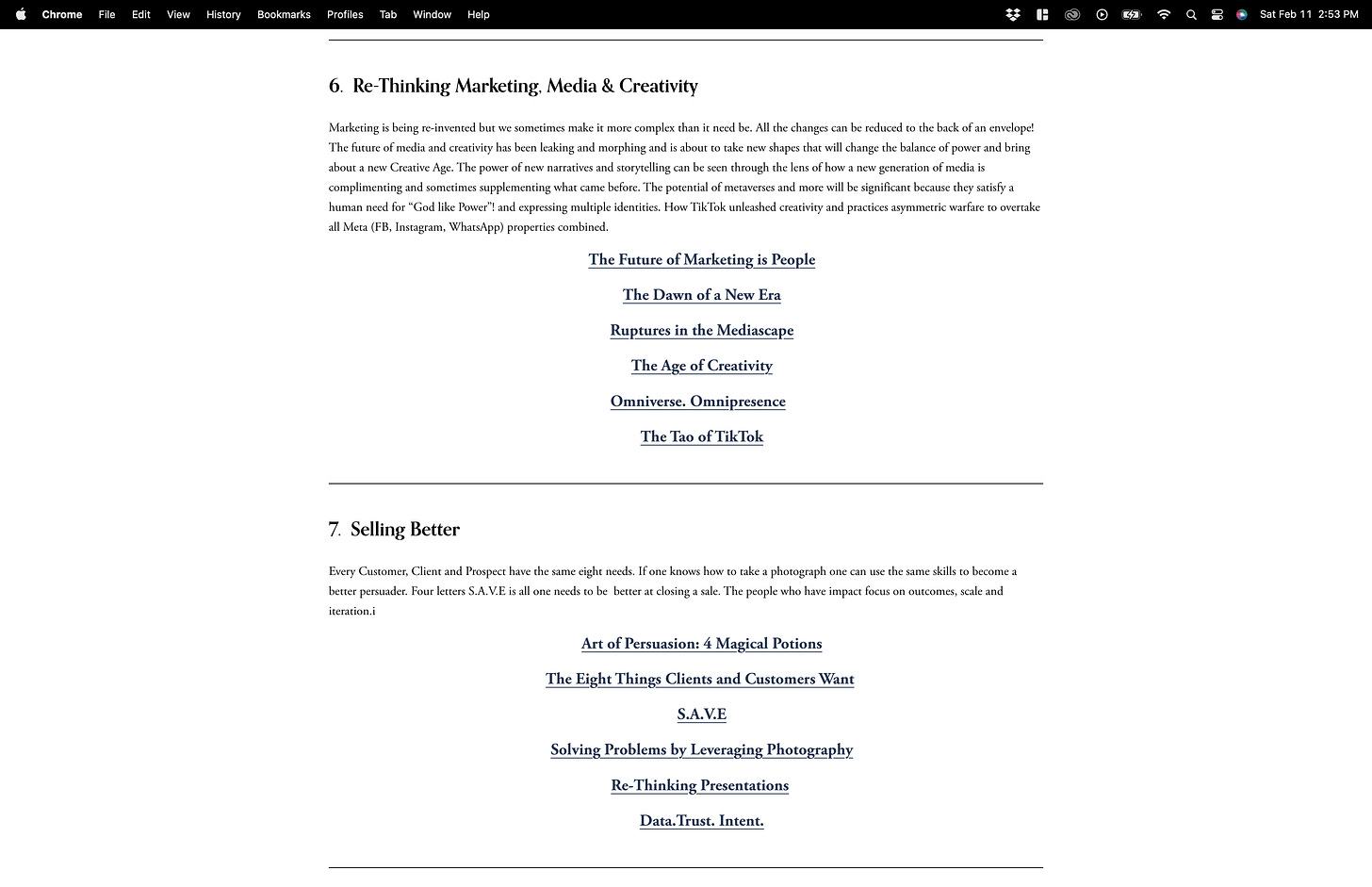 Re-thinking Marketing and Selling Better.
Marketing is being re-invented but frankly people have made it needlessly confusing. The Dawn of a New Era attempts to explain the future of marketing with one single chart! The Future of Marketing is Peoplemakes the case we should not think about consumers, customers, and members but people, that we should market through people versus to people and that marketing people need to upgrade their skills and their roles in the company. The Age of Creativity reminds us that in a world of plumbing it will be poetry that will differentiate.
We are all in sales in one way or the other. The Art of Persuasion:4 Magical Potions distills the best learning on this topic from Eight Things Clients Want, how to Solve Problems Using Photography, why S.A.V.E is a key filter for sales and why if you need to have a deck of more than 9 slides you truly have nothing to say. Re-Thinking Presentations remains the most popular post I have written.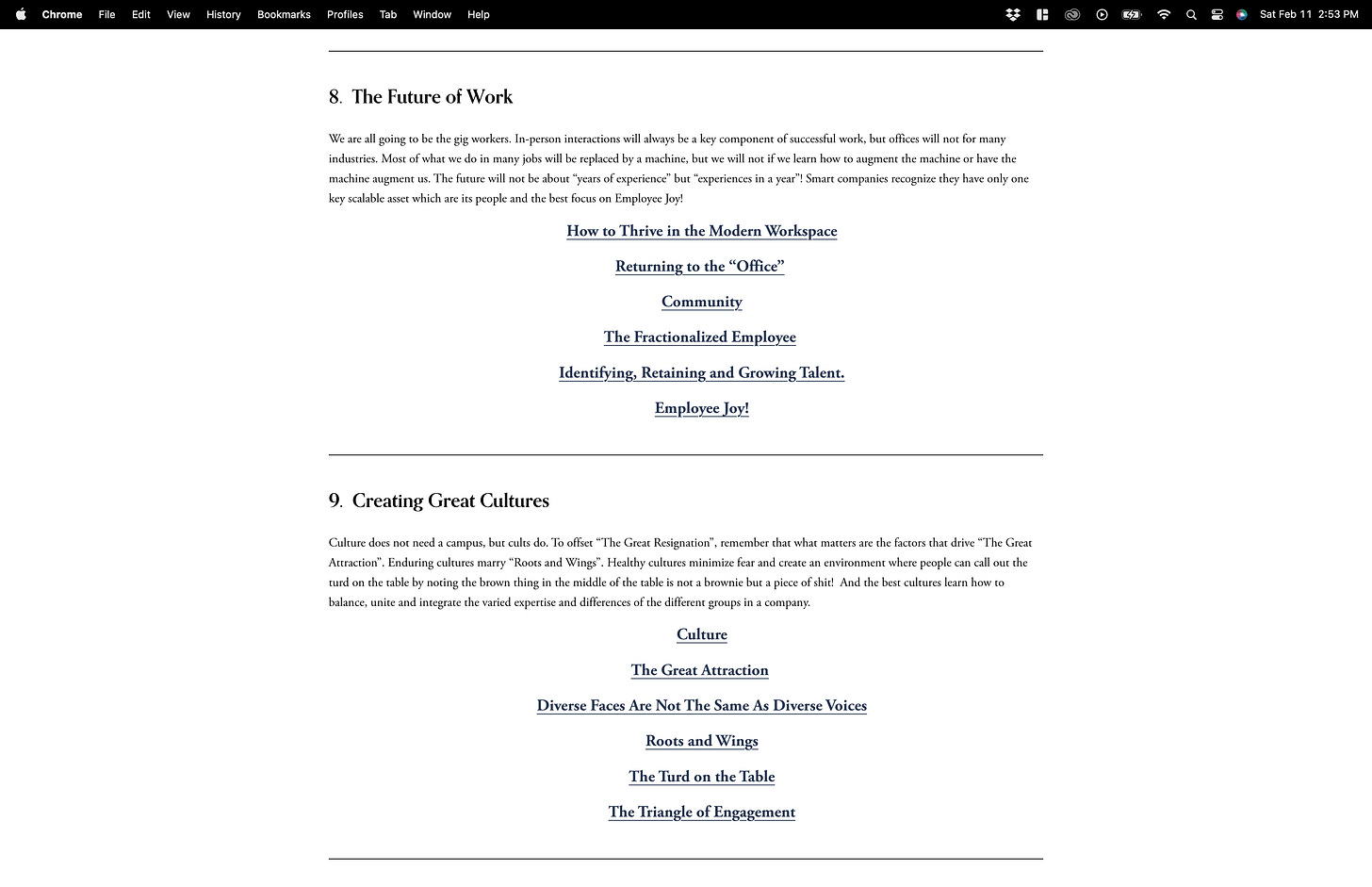 The Future of Work and Creating Great Cultures.
My next book (in progress) to be published globally by McGraw-Hill in Fall of 2024 is tentatively titled Re-Thinking Work. The challenges of distributed work post Covid that companies are struggling with is but a side show to what is coming in a world of four generations at work, next generation technology, new marketplaces, and a wave of multi-polar globalization among many things (How to Thrive in the Modern Workspace). Work in 2029 will look nothing like 2019 in how it will be done, who will do it, where it will be done but why we work and the importance of culture (Culture), the need for employee engagement (The Triangle of Engagement), the critical role of talent (Identifying, Retaining and Growing Talent) and what will attract people will stay the same (The Great Attraction).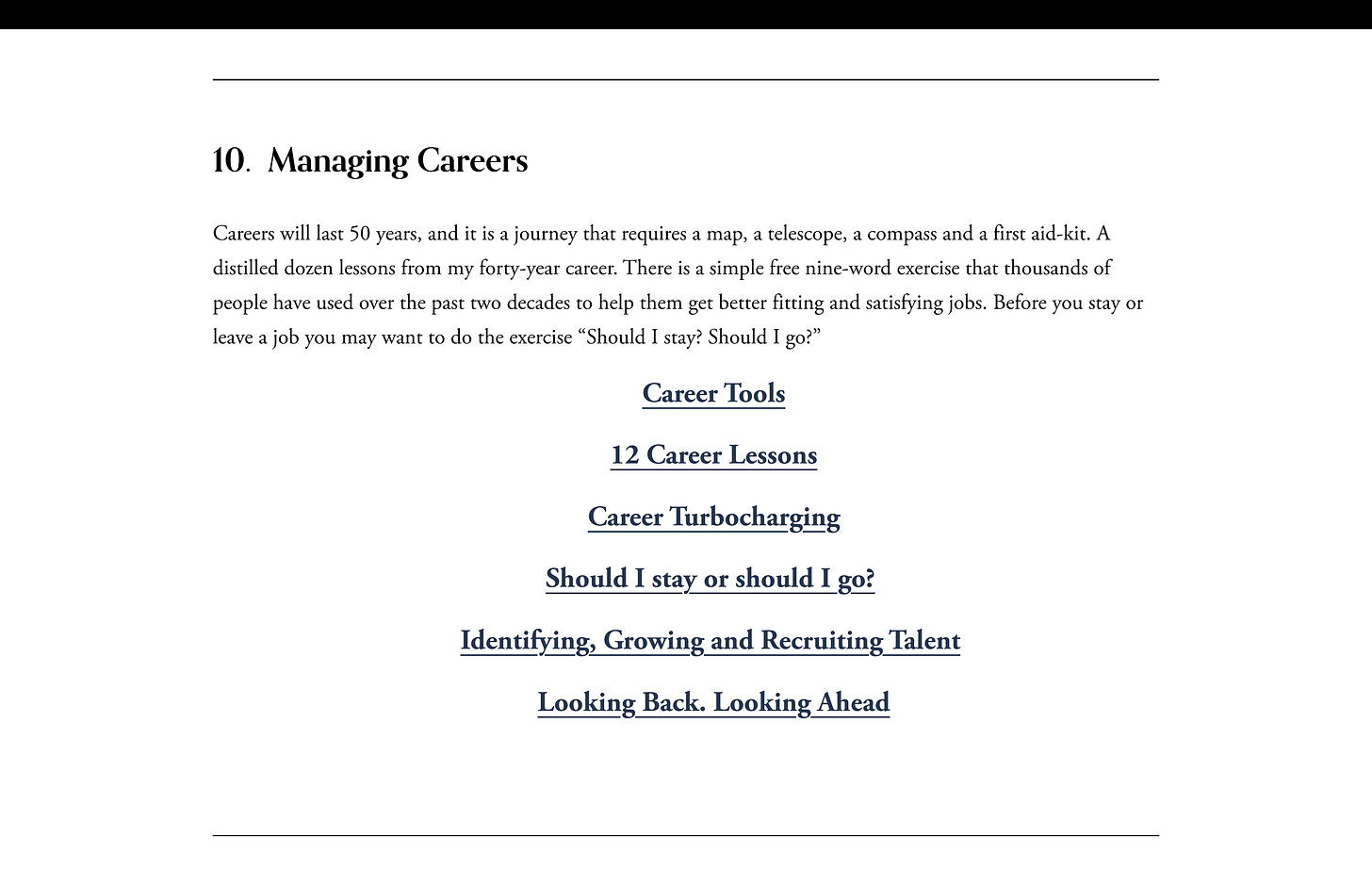 Managing Careers.
Make no mistake every single person at every level of every firm is re-thinking their career. My career writing except for a post on how to write presentations (Re-Thinking Presentations) are the most read and shared. Thousands of executives have leveraged these learnings. Read Career Tools for an overview, 12 Career Lessons and Looking Back, Looking Ahead for everything I have learned in a forty year career on how to manage a long and winding journey that we will all have, and Career Turbocharging is an exercise that will change the way you frame and filter yourself and your opportunities forever.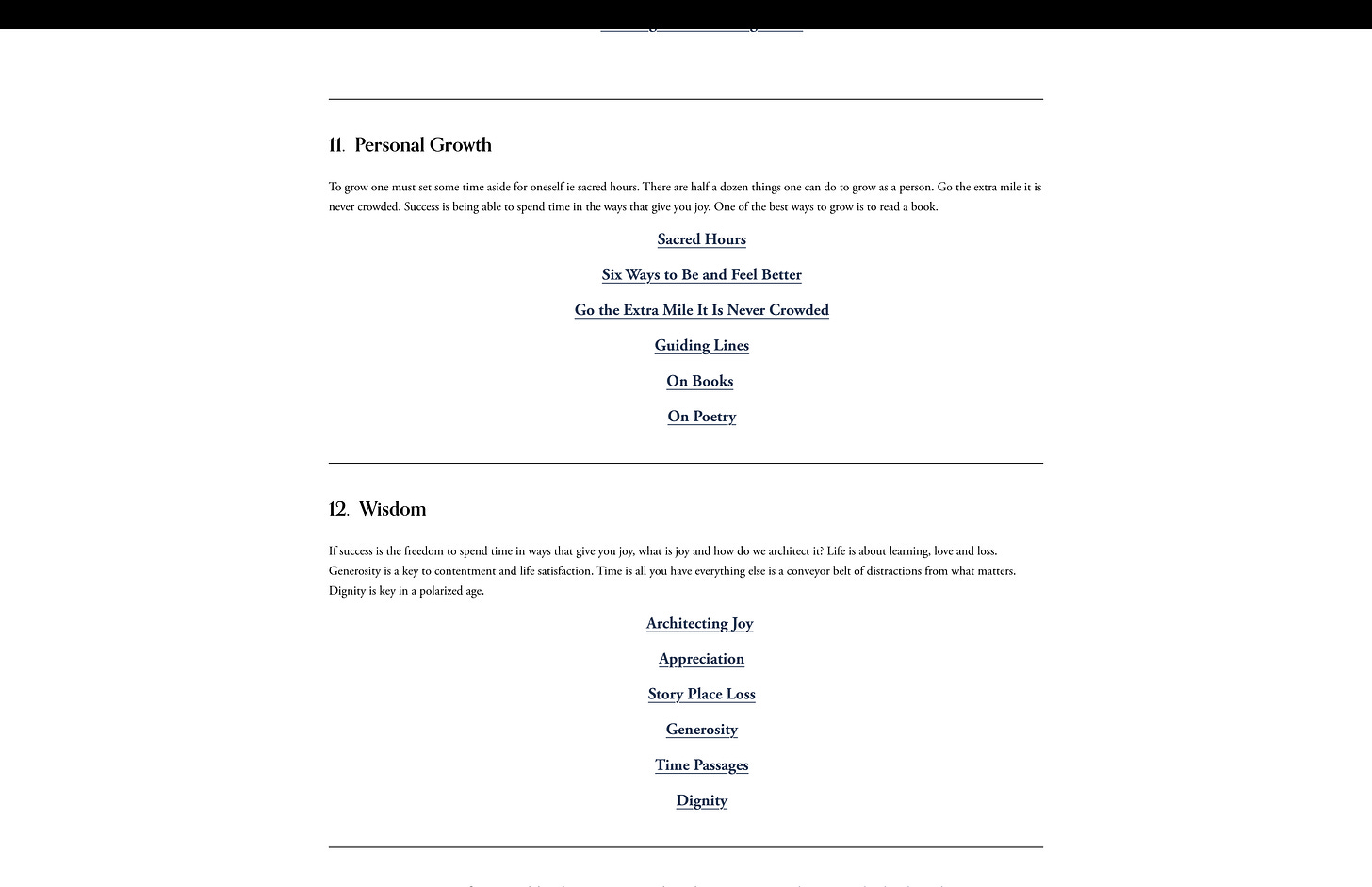 Personal Growth/Wisdom.
My older readers find these pieces particularly relevant, and this is the section most shared by many leaders with their teenage or young adult children.
The only thing we have is time (Time Passages). And so much of life is a combination of Story. Place and Loss.
While we are growing our companies and our bank accounts and our reputations let us not forget to grow ourselves (Sacred Hours), that we got here because of mentors and guides and other elders (Go the Extra Mile it is Never Crowded) and let us not forget that in the end it is about Architecting Joy,Generosity, andDignity.
Hope you will find this page (https://rishadtobaccowala.com/100 ) helpful in your work and life. Feel free to use all of it. Nothing is copyrighted. Nothing needs to be attributed. There is no cost and there will never be a cost.
A Gift to you for the gift of your time in taking time to read my writing.
Thank you…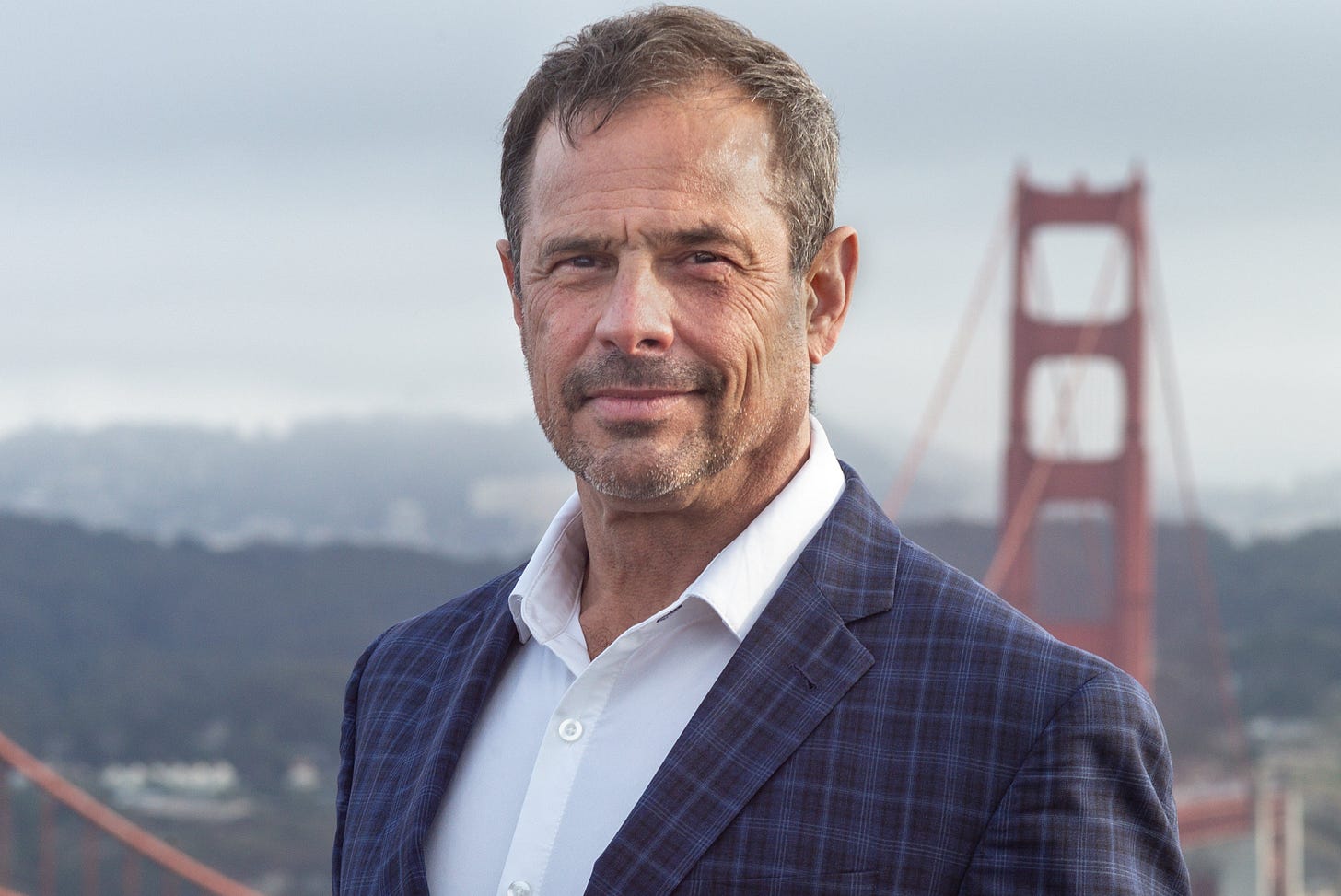 The Great Reset: In this special episode of What Next? my long time friend and one of the original digital pioneers Rich LeFurgy, General Partner, Archer Advisers, Director of the 4A's Institute of Advanced Advertising Studies (San Francisco), and Founding Chairman, Interactive Advertising Bureau, discusses the coming reset in the digital media experience, how (read: more fun!) employees will want to be back at work more often and how AI is going to transform the creative process, from executions to campaigns to strategic development.