This thought letter the "The Future Does Not Fit into The Containers of the Past" is now 2 years old.
It launched with the goal of being a gift that was 100% opt-in, completely free, and bohemian in nature covering a range of very different topics but infused with a growth and future mindset.
Despite zero advertising the thought letter is read by about 25,000 people every week.
It has found its audience by being mentioned at speaking events and a weekly social media post on LinkedIn, Twitter, and Facebook. But most of the audience has been built by readers forwarding to their friends, colleagues and organizations and positive word of mouth.
Reflecting the diversity of topics it is read globally by thousands of people early in their career and by over 500 CEO's and Presidents of companies. Readers work in a range of industries across business, finance, academia, art, science and technology.
Thanks for the support.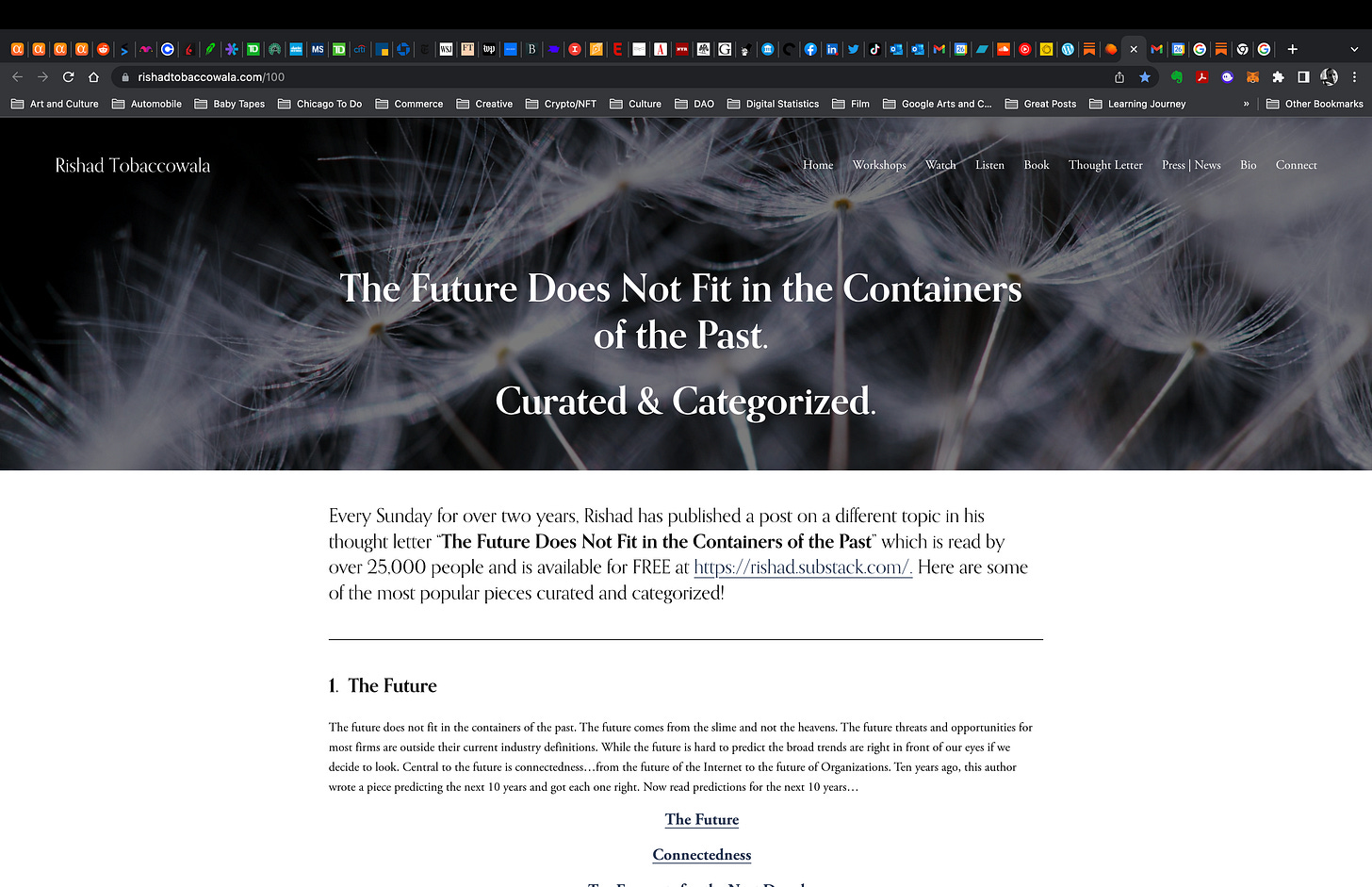 "The Future…" now easy to access, continuously updated, and quickly shareable!
At the request of readers who would like a way to easily access the past two years of writing (since I do not write about news, current events, or politics almost every piece is as relevant today as when it was written) I have launched a continuously updated page that is easy to bookmark and share.
The page curates and organizes the writing that has resonated the most into twelve different categories that people care about from "The Future" to "Becoming a Leader" to "Selling Better" to "Upgrading Our Mental Operating Systems" to "Managing Careers" and much more.
The page can be found here: https://rishadtobaccowala.com/100
If you would like to introduce someone to my writing and thinking please share this post or the link above!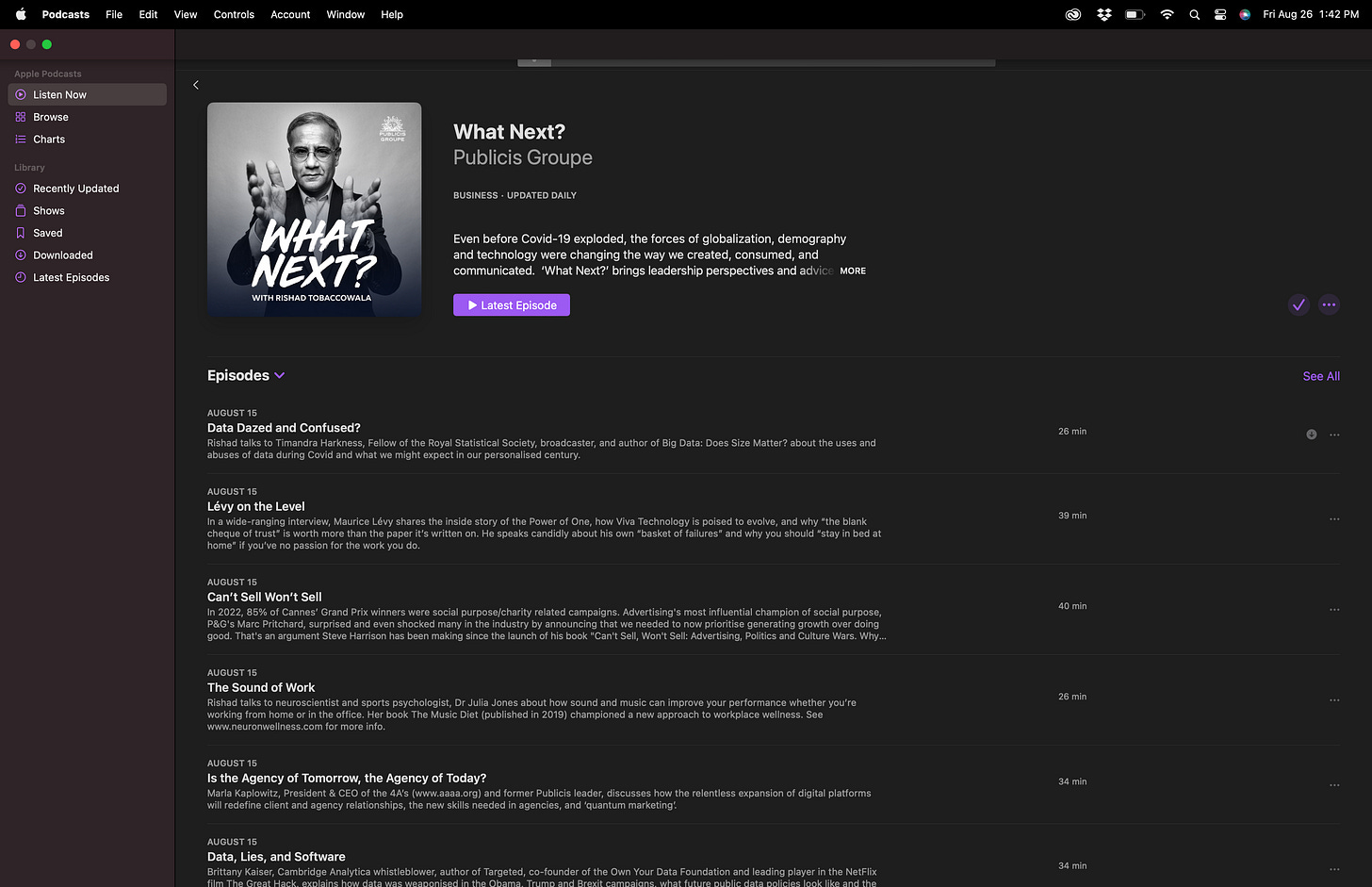 What Next? Podcast.
Two years ago, around the same time I started publishing this thought letter, I began hosting a podcast called "What Next?" for the Publicis Groupe where I had spent my entire 37 year full-time working career and to whom I have been fortunate to remain connected as a Senior Advisor.
In the 65 episodes recorded to date, I have spoken with a spectrum of people including historians, scientists, entrepreneurs, business leaders, venture capitalists, marketing leaders, advertising giants and many others on what they believed the future held and how we could align ourselves and transform our companies to thrive in such a future.
Until now "What Next?" had been available only to the 87,000 global employees of the Publicis Groupe but now with the release of 8 Episodes it is now available on all major podcast platforms including Apple and Spotify. A brand-new episode will be released each weekend.
There are some amazing guests who have already been recorded and scheduled to appear over the coming months.
The readers of this thought letter may find the podcast series relevant for three reasons:
1) Just like this thought letter it is focused on the future and how we can grow and transform to thrive there.
2) Like this thought letter it is a gift completely free of subscription fees or advertising.
3) The two share a common voice and writer but the podcast also brings in a diversity of amazing voices.
The first 8 episodes (each about 30 minutes and tightly edited to maximize insights per minute and respect your precious time) reflect this spectrum and diversity in the range of guests. Listen to any that catches your fancy. If you listen to a few you will realize how diverse in topic, mindset and perspectives each are.
Here is a brief summary of each of the 8 episodes:
Four predictions by a $20 Billion Deal Broker You Don't Want to Miss
Terence Kawaja, CEO, and co-founder of LUMA Partners, is the dealmaker in the media sector. Check out this episode where Terry (as he is known to friends) predicts "zero-based calendaring", how marketers need to "portfolio re-balance" their spend from physical retail to e-commerce in a rapidly changing commerce landscape post-covid and where the metaverse will be found (and it's not on our heads).
From the BBC to B2C
In a very special episode, Rishad talks to renowned historian, award-winning BBC broadcaster and digital business entrepreneur Dan Snow. They explore how Dan has accelerated away from traditional broadcast to build an agile and successful digital content business by exploiting the impact of digitization.
Data, Lies, and Software
Brittany Kaiser, Cambridge Analytica whistleblower, author of Targeted, co-founder of the Own Your Data Foundation and leading player in the Netflix film The Great Hack, explains how data was weaponized in the Obama, Trump, and Brexit campaigns, what future public data policies look like and the opportunities to grow beyond the big platforms.
Is the Agency of Tomorrow, the Agency of Today?
Marla Kaplowitz, President & CEO of the 4A's (www.aaaa.org) , discusses how the relentless expansion of digital platforms will redefine client and agency relationships, the new skills needed in agencies, and 'quantum marketing'.
The Sound of Work
Rishad talks to neuroscientist and sports psychologist, Dr Julia Jones about how sound and music can improve your performance whether you're working from home or in the office. Her book The Music Diet (published in 2019) championed a new approach to workplace wellness. See http://www.neuronwellness.com for more info.
Can't Sell Won't Sell
In 2022, 85% of Cannes' Grand Prix winners were social purpose/charity related campaigns. Advertising's most influential champion of social purpose, P&G's Marc Pritchard, surprised and even shocked many in the industry by announcing that we needed to now prioritize generating growth over doing good. That's an argument Steve Harrison has been making since the launch of his book "Can't Sell, Won't Sell: Advertising, Politics and Culture Wars. Why ad land has stopped selling and started saving the world". Here he discusses what the IPA called "the most provocative advertising book in years" in what could well be Rishad's most provocative podcast in years!
Lévy on the Level
In a wide-ranging interview, Maurice Lévy shares the inside story of the Power of One, how Viva Technology is poised to evolve, and why "the blank cheque of trust" is worth more than the paper it's written on. He speaks candidly about his own "basket of failures" and why you should "stay in bed at home" if you've no passion for the work you do.
Data Dazed and Confused?
Rishad talks to Timandra Harkness, Fellow of the Royal Statistical Society, broadcaster, and author of Big Data: Does Size Matter? about the uses and abuses of data during Covid and what we might expect in our personalized century.
A great team spread around the globe puts this together:
Executive Producers: Christopher Harrison and Severine Charbon
Producer: Lara Parker
Audio Engineer: George Turner
Audio Engineer: Michael Powell
Sound Designer: Grzegorz Fiedorowicz
Project Coordinator: Anne Bor Gloaguen
Communications Consultant: Karen Lim
Host Photo: Emmanuel Andre
Theme Music: So Solid Sounds
Post Producer: Zuzanna Brzezinska
Editors: Mark Jewitt / Gilly Smith
You may want to subscribe by clicking by on the the words " Apple" or "Spotify" below ( The podcast has been distributed globally across most if not all platforms and not just Apple and Spotify).
Apple: https://podcasts.apple.com/us/podcast/what-next/id1638921761
Spotify:
You might find them intriguing, interesting and irreverent!
Thank you!
You can share this post by clicking here: https://rishad.substack.com/
Rishad Tobaccowala is an author, advisor, speaker, and educator who distills four decades of experience to help people see, think, and feel differently so they can grow their companies, their teams and themselves. More about Rishad's advisory services, best-selling book, and the range of topics of 10 popular workshops can be found here…https://rishadtobaccowala.com/